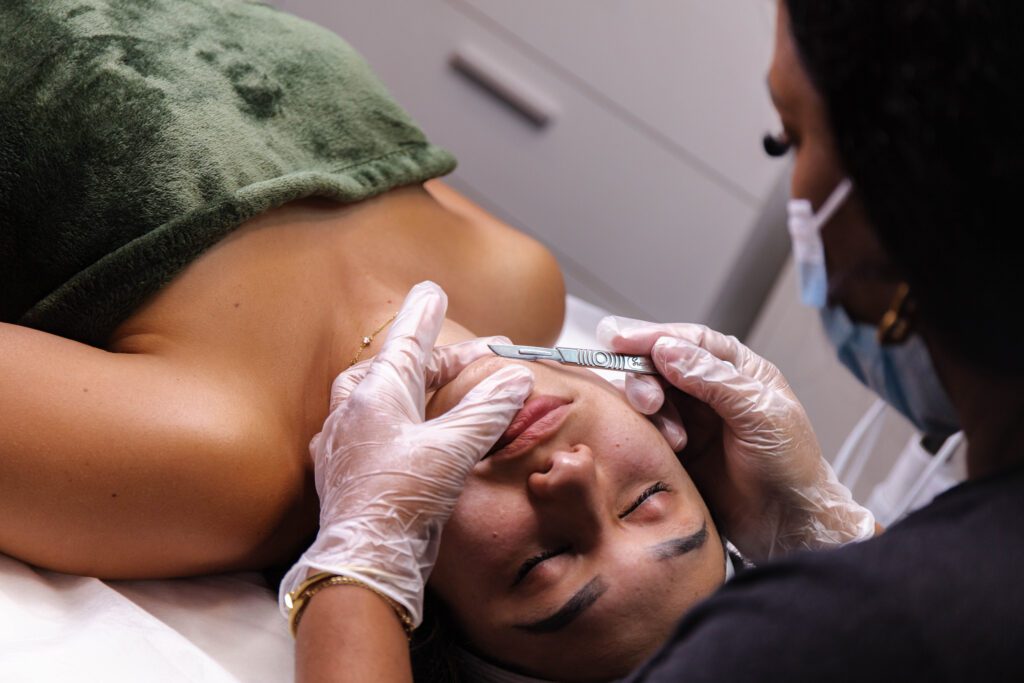 Smooth, and glowing skin!
Dermaplaning is a  non-invasive, pain-free procedure. Perfect for those looking to improve skin texture, remove peach fuzz, and attain a more youthful appearance. Ideal for all skin types, dermaplaning not only enhances the effectiveness of your skincare products, but also provides a flawless base for makeup application.
Your dermaplaning session begins with a thorough face cleanse to prepare your skin. We then apply an enzyme mask for gentle exfoliation, aided by the soothing effect of steam. Using a sterile surgical scalpel, our skilled professionals will gently remove the top layer of dead skin and fine, vellus hair (aka peach fuzz). The treatment is concluded with our signature jelly mask, leaving your skin refreshed and rejuvenated.
Before Your Treatment:
Discontinue use of any topical retinoids or other potent skincare products for at least 2-3 days prior to your appointment.
Come in with a clean face, free of makeup and moisturizers.
After Your Treatment:
Avoid direct sun exposure and use a broad-spectrum SPF to protect your newly exposed skin.
Refrain from using any skincare products containing alcohol or acids for at least 48 hours post-treatment.
Moisturize generously to keep your skin hydrated and smooth.
.
BOOK NOW