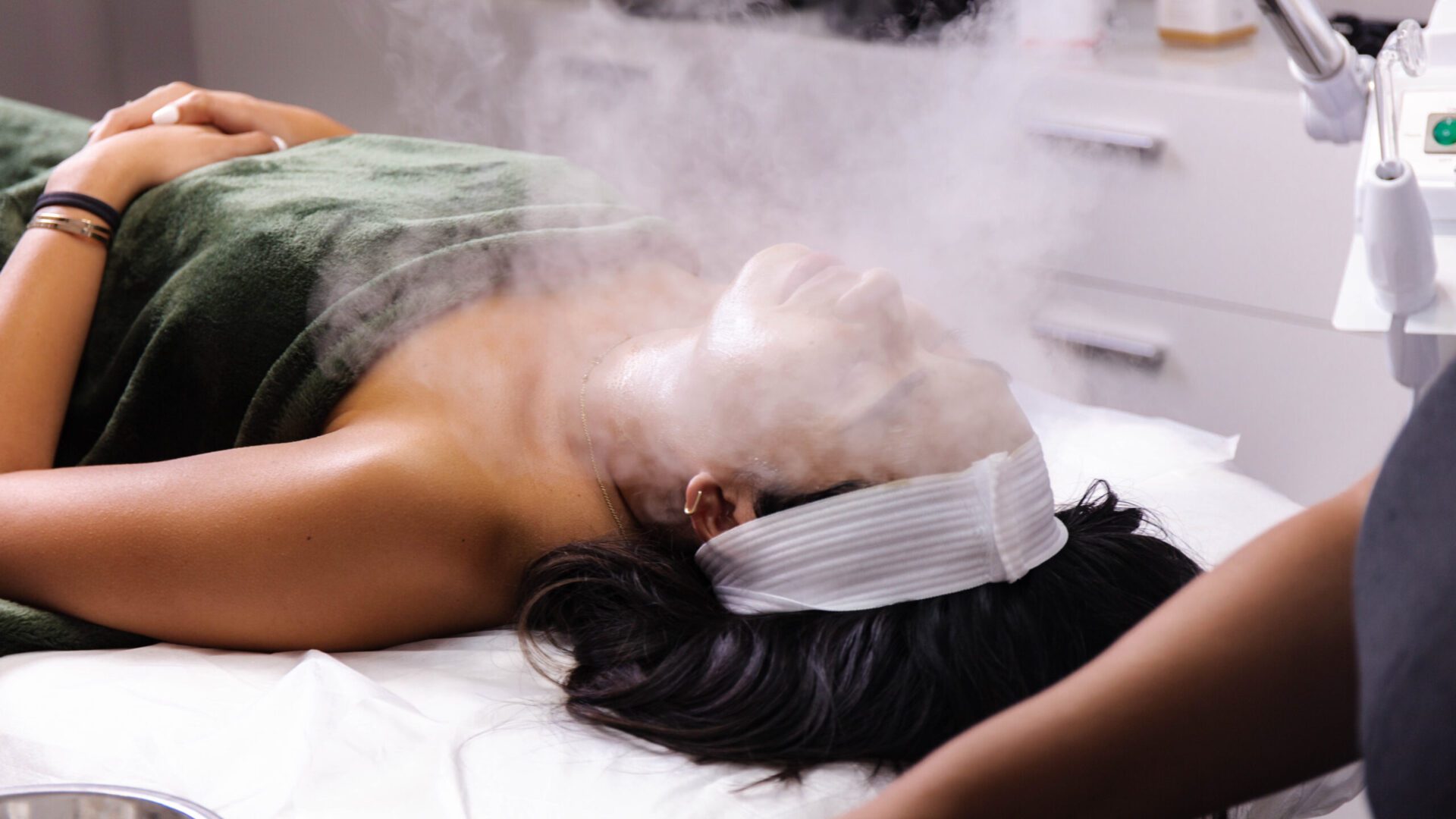 Our Customized Facial is not just a treatment, but a completely personalized skincare experience designed to meet your unique needs. Powered by Jan Marini Skin Care Research. The process starts with a one-on-one consultation to assess your skin's condition and discuss your skincare goals. Based on this evaluation, we meticulously select the cleansers, exfoliants, masks, and serums that will be most beneficial for you. Our skilled estheticians then perform the treatment, carefully layering products and employing techniques that maximize their efficacy for your specific skin concerns. It's targeted skincare crafted to serve you, offering visible improvements in texture and tone.
Ready to experience skincare that's uniquely tailored to you? Book your Customized Facial today.
$100
Our 30-minute Customized Facial offers a quick yet effective skincare boost, perfect for those with a busy lifestyle or those that wants to ease their way into professional skin care. After a brief consultation to assess your skin's needs, we focus on key areas that require attention, using specially selected cleansers, exfoliants, and serums. The treatment aims to refresh your skin, offering noticeable improvements in a shorter timeframe. Ideal for maintenance or as an introduction to our personalized skincare approach.
$195
For the ultimate skincare indulgence, our 90-minute Customized Facial offers an in-depth treatment that attends to every detail. Starting with a thorough consultation, we craft a complex regimen of cleansers, exfoliants, masks, serums, and our estate of the art facial equipment like light and oxygen therapies and more to maximize your skin's potential. This extended session also includes additional treatments for your neck and décolletage, as well as a longer facial massage for complete relaxation and revitalization.
$150
Dive deeper into personalized care with our 60-minute Customized Facial. This session allows more time for a comprehensive skin analysis followed by a tailored treatment plan. We incorporate targeted cleansers, exfoliants, masks, and serums to address your specific concerns, whether it be aging, uneven skin tone, or occasional breakouts. Additional time also allows for a relaxing facial massage, enhancing both your skincare results and overall well-being.
Targeted Solutions for Clearer Skin
Combat persistent acne and its after-effects with our specialized Acne Facial. This treatment is precisely formulated to not only manage active acne but also address hyperpigmentation and texture issues. By combining the potency of Marini Retinol Mask  with the Marini Luminate Mask, we offer a comprehensive solution for acne-prone skin.
The facial starts with the application of our Marini Retinol Mask, a potent formula that helps loosening up clogged pores and preparing your skin for extractions. The retinol in the mask acts to remove dead skin cells, making extractions more efficient and less painful.
Once your skin is prepared, we move on to the Marini Luminate Mask. This unique mask features a synergistic blend of lactic and mandelic acids, alongside powerful antioxidants and brightening technologies. It specifically targets hyperpigmentation caused by acne, while also improving texture and overall skin tone.
Following the masks, we proceed with thorough extractions to remove blackheads, whiteheads, and acne cysts, taking care to ensure minimal discomfort and post-facial irritation.
To conclude the facial, we focus on hydration. Using carefully selected moisturizers and serums, we restore your skin's natural moisture balance, leaving it hydrated and resilient, and better prepared to resist future breakouts.
Bid goodbye to stubborn acne and uneven skin tone. Book your Acne Facial today and take the first step towards clearer, healthier skin.
BOOK NOW
Discover a transformative approach to anti-aging with our specialized facial that combines cutting-edge technologies and potent ingredients for visible, lasting results. This comprehensive treatment incorporates radio frequency (RF) and other technologies, along an antioxidant cocktail featuring Jan Marini C-Esta Face Mask a lipid-soluble vitamin C and DMAE to rejuvenate your skin from the inside out, and Jan Marini Retinol Mask exclusive formula containing the highest concentration of retinol.
We start by prepping your skin with the application of radio frequency (RF) to tighten skin and improve its elasticity. The RF technology heats the underlying layers of skin, encouraging collagen production and reducing sagging. This is followed by other skin tightening technologies based on your skin.
The treatment is then enhanced with an antioxidant cocktail of lipid-soluble vitamin C and DMAE. This unique blend penetrates deeply into your skin, combating free radicals and boosting overall radiance. Vitamin C brightens your complexion, while DMAE helps to firm and tighten your skin, offering a more defined look to your facial contours.
The finale of this luxurious facial is the application of Jan Marini Retinol Mask exclusive formula containing the highest concentration of retinol available. Leveraging advanced skin rejuvenation technologies, this powerhouse ingredient visibly improves the appearance of fine lines and wrinkles, leaving your skin feeling renewed and youthful.
Experience the epitome of anti-aging skincare with this all-encompassing facial. Book your appointment today to elevate your skincare journey.
Soothing and Hydrating Facial
$175
Ultimate Care for Dry and Sensitive Skin!
Revitalize your dehydrated skin with our Soothing and hydrating Facial, a treatment specifically designed for individuals with dry and sensitive skin. This soothing facial combines the benefits of oxygen therapy with the gentle exfoliation of our Marini Enzyme Facial, offering a delicate balance of moisture and renewal.
The treatment kicks off with our Marini Enzyme Facial. Utilizing proteolytic enzymes, this unique method offers a gentle yet effective exfoliation, digesting unproductive dead skin cells while preserving the healthy underlying tissue. It sets the stage for enhanced absorption of subsequent skincare products and creates a fresh canvas, making it an excellent choice for sensitive skin.
After the enzyme mask has done its work, we move on to the restorative phase of the facial. Here, we use a selection of hydrating and calming ingredients tailored to target dryness and sensitivity. These nourishing elements lock in moisture and set the groundwork for the final step.
The experience culminates with oxygen therapy, where highly concentrated oxygen molecules are infused into your skin and Marini Micro Mask. This final step not only provides immediate hydration but also promotes a supple, radiant complexion that lasts.